Chinese Firm to install early warning system into Nepal
Nearly 9,000 people were killed and 22,000 were injured in the Nepal earthquake.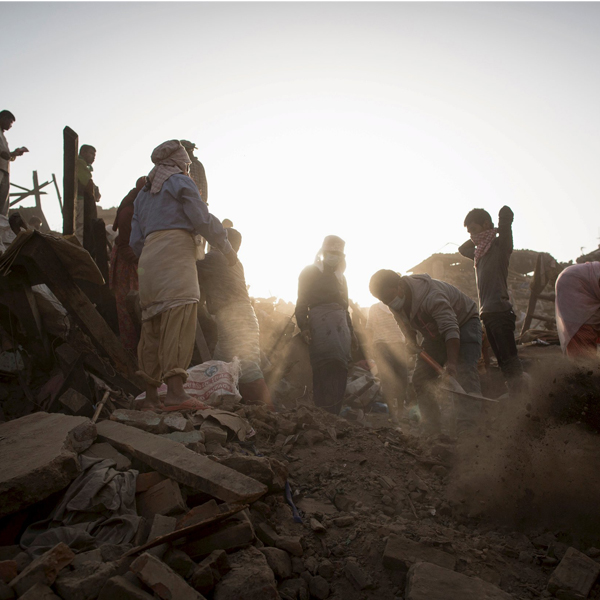 A Chinese firm will build an early earthquake warning system by deploying 120 sensors across Nepal to monitor seismic waves in the quake-hit country where a massive temblor of 7.8-magnitude in April killed nearly 9,000 people.
The Early Earthquake Warning system (EEWS) transmits warnings via radio waves which travel several times faster than tremors during an earthquake of 6.0 magnitude or higher earthquake. If the system had existed at the time of the quake that struck Nepal on April 25, people in the capital Kathmandu could have been notified 18 seconds in advance, and thousands of lives could thus have been saved, state-run Xinhua news agency quoted Wang Tun, director of the Institute of Care-life as saying.
Nearly 9,000 people were killed and 22,000 injured in the quake. Wang, however, did not specify the costs and funding part of it. Jiba Raj Pokharel, vice chancellor of the Nepal Academy of Science and Technology, said he hoped that the system could be put into service soon.
China started to build its own EEWS in 2010 after the devastating Wenchuan earthquake inSichuan and the system now covers 2.1 million square km of the country. China started to pay attention to early earthquake warnings after the 8.0-magnitude Wenchuan earthquake, which killed nearly 70,000 people.
Many other countries, including Japan, Mexico and Turkey, launched such systems much earlier, Chen Huizhong,a research fellow with the administration's Institute of Geophysics said. A real-time system gives warnings within seconds after a quake is possible and can save lives in quakes with a magnitude of 6.0 or higher because the warnings, transmitted via radio waves, travel faster than seismic waves.
"Radio waves travel at 300,000 kilometres per second, while seismic waves travel at 3 to 6 kilometre per second.
People who live in nearby areas may escape before the seismic waves arrive," Chen said. The Institute of Care-life, is the contractor of the EEWS in Nepal that includes 120 sensors, a central facility and terminals to receive early earthquake warnings messages, the report said.
Comment: "Well done ICL Team. this is excellent news after many years of development and with 5000 sensors in place already operating within China across 23 provinces covering an area larger that the whole of Japan, they have enormous amount of data to enable development of algorithms and parameters, refining the speed of earthquake EW confirmation and intensity mapping, creating those essential extra seconds of early warning for individuals to make personal assessments and react quickly as trained. The system gives a verbal countdown and expected intensity at your location to eliminate confusion, via online terminals, specific independent receivers, public tannoys, and directly to smart phones plus a direct cut in messaging broadcast on to TV and Radio networks. The system is capable of generating drills and shakeouts to any individual sensor or cluster of sensors within communities or emergency response facilities. And can have other EW systems for different hazards integrated". garry de la Pomerai.
Revealing pre-earthquake signatures in atmosphere and ionosphere associated with 2015 M7.8 and M7.3 events in Nepal. Preliminary results
(Submitted on 7 Aug 2015)
We analyze retrospectively/prospectively the transient variations of three different physical parameters of atmosphere during the time of M7.8 and M7.3 events in Nepal: outgoing earth radiation (OLR), GPS/TEC and the thermodynamic proprieties in the lower atmosphere. We found that in mid March 2015 a rapid augment of satellite observed earth radiation in atmosphere and the anomaly located in close vicinity to the future M7.8 epicenter reached the maximum on April 21-22. Our continuous satellite analysis revealed prospectively the new strong anomaly on May 3th, which was the reason to contemplate another large event in the area. On May 12, 2015 a large aftershock of M7.3 occurred. The analysis of air temperature from weather ground station near Katmandu shows analogous patterns with offset 1-2 days earlier to the satellite anomalies. The GPS/TEC data analysis indicates an augment and variation in electron density reaching a maximum value during April 22-24 period. A strong negative TEC anomaly in the crest of EIA (Equatorial Ionospheric Anomaly) has occurred on April 21st and strong positive on April 24th, 2015. Our preliminary results show correlation between the pre-earthquake atmospheric and ionospheric anomalies and the occurrence of 2015 M7.8 and M7.3 events in Nepal.
Submission history
From: Dimitar Ouzounov [view email]
[v1] Fri, 7 Aug 2015 20:14:00 GMT (1023kb)
"Whilst we within the ERTHA team demonstrate that both earthquakes that hit Nepal were formally forecast accurately to location and within time scale and size, it is still not the right time to make this type of information public, until 1. the ICL early warning system is in place and 2. the government and agencies and response teams and industry and individuals have been prepared to receive and react to such a forecast of 4-30 days. This will take an enormous amount of preparedness within society to understand the implications of receiving reliable forecasts. plus this information has to be channeled through the Government and their NDMA and certainly not first through media or rumour. To say people have a right to know is correct. But first we must install a mechanism of how that message is disseminated. This we have also been working on for the past three years in parallel to the technology development and we hope is/ will be established later this year". Garry.